Biography
Mary started singing in Manchester folk clubs over forty years ago when an undergraduate at Manchester University.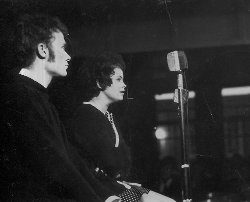 Mary Humphreys and Ned Ogier singing at MSG in about 1968
During the ensuing years she built up an extensive repertoire of traditional English song, much of which is unique to her. Many of her songs are ballads which she has compiled from extant oral and literary sources. She also has many lyrical songs some of which she accompanies with concertina or banjo, or more frequently by Anahata on cello, melodeon or concertina..
Although Mary was born and educated in Wales, she lived and sang for many years in the Manchester region, with a brief excursion to Hull in the early 1970s
Mary was involved in running the university folk club during most of her three years in Manchester as a student. It was the influence of Jim Carroll, Barry Taylor and Terry Whelan, Manchester singers who were regular visitors to Ewan MacColl's Critics Group that encouraged Mary to take a serious interest in traditional song. Mary was a member of the Manchester Critics Group modelled on Ewan McColl's London Critics Group. She later became a resident at Harry Boardman's Unicorn Folk Club from 1985 until its demise in the late 1990s.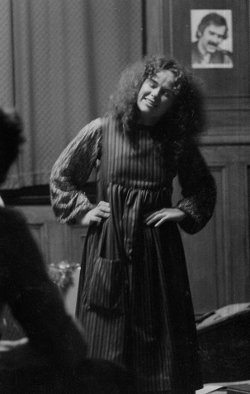 Mary singing at the Unicorn in about 1985
With Harry Boardman and others she took part in a series of BBC North West radio programmes called "Ballads of Occupation" which were inspired by Ewan McColl's Radio Ballads. Mark Dowding has put the details on his website.
Ballads of Occupation
. If you scroll to the bottom of Mark's page you can find out more about the recordings.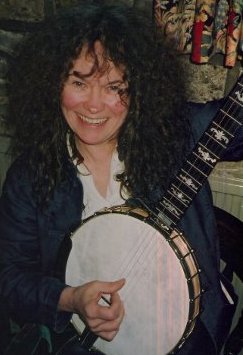 Mary singing at the Ryburn Folk Club in 2001. Picture taken by Sheila Gammon.
In
1988
Mary moved to West Yorkshire to join
Ryburn Three Step
where she was a resident singer at the folk club and often played for the longsword dance team and took part in a regular English traditional music session at the Bridge Inn, Ripponden.
From mid 2001 Mary moved to East Anglia and started working with Anahata on song and tune arrangements with a wider variety of instruments. Anahata accompanies her singing on cello, a variety of melodeons or Anglo concertina.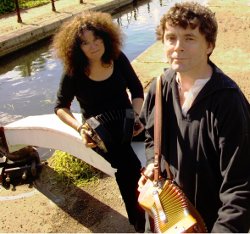 Mary & Anahata-the duo
Mary and Anahata have their own
web site
.
After moving to live in Cambridgeshire Mary spent much of her time researching songs collected in Cambridgeshire and produced an award-winning book.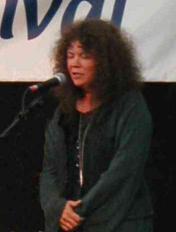 Mary singing at the Song Links 1 launch, Sidmouth in 2002. Picture taken by Vic Smith.
In
2002
Mary and Anahata were part of the Martyn Wyndham-Read Song Links Project, singing at the launch of Song Links 1 in Sidmouth and recorded two tracks on the Song Links 2 CD launched at Cecil Sharp House in London.
Mary and Anahata were regular visitors to The National Folk Festival at Sutton Bonington and were at the last of these in 2005.
In 2005 they were guests at several festivals:Chippenham, Holmfirth, Broadstairs and Whitby.
In 2006 they were guests at Cornwall and Sidmouth festivals.
In 2007 they performed at Chippenham, Sidmouth, Dartmoor, Bideford, Whitby and Shrewsbury Festivals.
In 2008 they performed at Chester Folk Festival, Saddleworth and Shrewsbury.
From 2009 Mary worked extensively with projects involving schools and community groups in Cambridgeshire, giving talks and teaching pupils about local customs, games and songs. See Community & Schools pages.
In 2010 Mary & Anahata ran a Fenland Tunes Workshop at Gleanings Rural Studies Centre, and performed at festivals at Belper, Sidmouth, Whitby and the EATMT Traditional Music Day.
In 2011 The duo performed at festivals at Teignmouth, Chippenham, Whitby, Tenterden and the EATMT Melodeons and More Day. They also toured various venues in Canada culminating in the Mill Race Festival at Cambridge Ontario.
In 2012,in addition to their many club appearances,they performed at festivals in Ely, Folk East, and Sidmouth ( with Nick & Mary's Big Band Workshop ).
In August 2013 Mary & Anahata went back to Canada to perform at Mill Race and Port Dover. Later in the year they appeared at Whitby Folk Festival and Folk East,running workshops and performing on the concert stages.
In 2014 they were once again guests at Sidmouth and Whitby Festivals, the 50th Anniversary celebrations of the Black Diamond Folk Club and several smaller festivals, such as EATMT's Traditional Music Day.
In 2015 Mary and Anahata were booked to perform at Chippenham Festival and Canada's Mill Race Festival and the Waterloo Museum, Ontario once again.As it was the 200th anniversary of the Battle of Waterloo, we had plenty of songs to perform!
In 2016 Mary and Anahata performed at the Bothy, Southport and Sharps at Cecil Sharp House, London but for the rest of the year they had to concentrate on ceilidh work as a severe throat infection left Mary needing complete vocal rest for many months.
In 2017 Mary & Anahata were back in action at many of the East and South of England folk clubs plus a festival or two including the Blaxhall Ship, Folk East and of course, one of our favourite places to be - Whitby. We also had a great gig at Black Diamond Folk Club in spite of the dreadful weather.
In 2018 Anahata retired from working as a software engineer in Cambridge and we moved to Riddlesden in West Yorkshire, only 10 minutes away from Baccapipes Folk Club which has been our singing home ever since, We have been involved in the plethora of activities that the Folk Club spawns, such as ceilidhs, Baccapella ( a harmony singing group which performs unusual Christmas carols in several locations around Keighley.) We now belong to a Welsh tunes group and host a regular tune session at our local pub, the Willow Tree.
One of the highlights of the year was performing at two Everyman Folk Clubs - one in Liverpool and the other in Suffolk. Both are very friendly places and well worth a visit for anyone interested in good singing. Another highlight was singing in Brick Kiln Garden Centre in Chichester, where every song we performed mentioned a flower or a plant. That took some effort!