William Clarke of Feltwell
Manuscript from an East Anglian country musician of the 1820s-1850s.
This manuscript came into the possession of Lyn and Peter Law of Chester several years ago. It was compiled by William Clarke of whom I can find no census records, although there was a William Clarke named as union clerk and superintendent registrar of the workhouse at Thetford ( White's Directory 1844, page 707.) They have been very generous in allowing me full access to the book and much of the transcription work was done by Lyn. My grateful thanks to Lyn and Peter. Please remember that they own the copyright of the manuscript and retain all rights to its reproduction and use.
We do not know what instrument William Clarke played, but we suspect he played the flute as there are no tunes that go below middle C in his manuscript. He must have played for social dances, based on the number of tunes he had transcribed and the type of tunes. There are many waltzes, quadrilles, jigs and reels as well as song tunes and marches. Here is the first page of the book.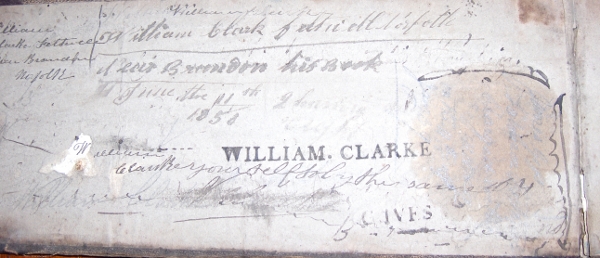 Lyn Law , David Dolby, Anahata and myself have been transcribing the tunes into abc format. They are all available to download for free here . or in .pdf format here. If you find a website offering a download of "corrected" files, please be warned that only Lyn, David, Anahata, myself and Nick Barber have ever worked on pages from the original book. Any "corrections" cannot be anything other than conjecture.