Mary Humphreys
singer, musician, and song researcher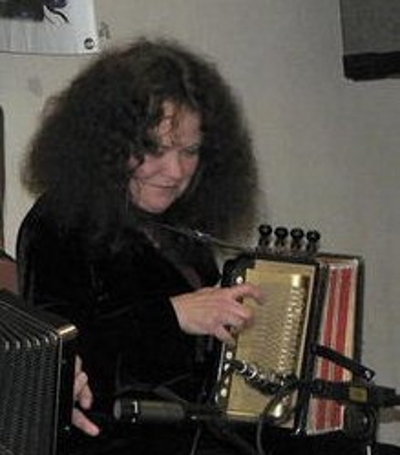 I sing traditional songs, accompanying myself on banjo, English concertina and sometimes on a one-row melodeon..
Working as a duo with Anahata who accompanies me on cello, Anglo concertina and a variety of melodeons, I also play keyboards and the occasional banjo in English Rebellion and keyboards and English concertina in Fendragon ceilidh bands.
I play English concertina in the strange and unusual Ethel's Cats ceilidh band.
I enjoy playing for two very different Molly dance teams: Old Glory Molly. and Pig Dyke Molly.
I am currently the Chair of Suffolk Folk, a not-for-profit organisation based in East Anglia which promotes concerts and educational events in schools, runs a one-day festival in February each year and produces the East Anglian folk magazine Mardles.
My main occupation ( apart from singing, playing at music sessions and for ceilidhs, crosswords and sculling on the Cam ) is researching songs and tunes from East Anglia, specialising in Cambridgeshire and its near neighbours. I have written an award-winning book on Cambridgeshire folksongs which you can read about on another page.


Updated 9th Feb 2013